Presented By: Outreach and Technical Assistance Network
March 3, 4, and 5, 2021 (virtual event)

The Technology and Distance Learning Symposium is ideal for the teachers, coordinators, administrators, and support staff in the network of California adult education providers under the Adult Education and Family Literacy Act, WIOA Title II, the federal grant administered by the Adult Education Office at the California Department of Education.
This event will offer relevant and new information, dynamic presentations, and hands-on skill development to start or grow your blended/distance learning programs and enhance technology integration in the classroom.
Registration is now closed!
Registration will close when registration number reaches 800 participants.
OTAN plans on recording many of the sessions and will share those after TDLS once they become available.
Here's what you missed at the 2020 Symposium
Select the cover to download a copy of the program.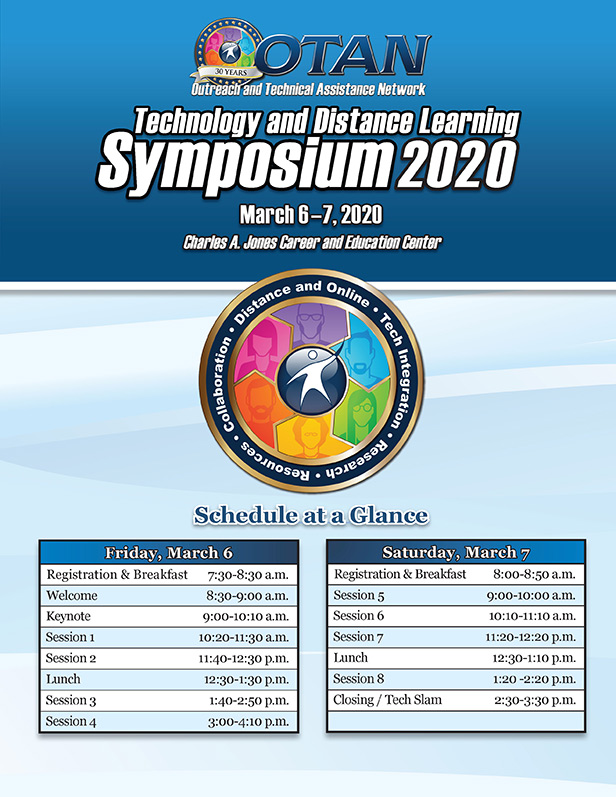 Category Strands
Blended Learning
Distance Learning
Program Administration and Coordination
Technology Integration
Online Engagement and Assessment
Digital Equity and Access
Corrections, Re-Entry, and Rehabilitation
Location and Times - Virtual Event!
Wednesday, March 3, 2021

General session 1:00pm-2:30pm (90 min)

Sessions (1) 2:45pm-4:15pm (90 min)
Networking Opportunity 4:15pm-5:00pm (45 min) end at 5:00pm
Thursday, March 4, 2021

All day

Sessions (2) 8:30am-10:00am (90 min)
Sessions (3) 10:30am-12:00pm (90 min)
Lunch 12:00pm-1:00pm
Sessions (4) 1:00pm-3:00pm (2 hrs)
Networking Opportunity 3:15-4:00pm (45 min)
Friday, March 5, 2021

All day

Sessions (5) 8:30am-10:00am (90 min)
Sessions (6) 10:30-12:00pm (90 min)
Lunch 12:00pm-1:00pm
Sessions (7) 1:00-2:30pm (90 min)
Close General Session/Tech Slam 2:30pm-3:30pm (60 min)
TDLS is Social!
Receive more details before the event and share with your colleagues while you attend. Twitter hashtags are #tdls21 and #adultEDU. And, you can always use the convenient buttons at the bottom of every page on our site.
Videos of some of our TDLS 2020 presentations are posted on the OTAN website on our TDLS Video Presentations page.