Presented by OTAN, the Outreach and Technical Assistance Network
March 3 and 4, 2023 (in-person and online event)

The Technology and Distance Learning Symposium is OTAN's annual conference with dynamic, hands-on presentations and lively discussions that show participants how to integrate technology to enhance the learner experience, extend the classroom to learners through blended and distance learning, and help adult education programs be more effective and efficient.
TDLS is ideal for teachers, coordinators, administrators, and support staff at California adult education agencies under the Adult Education and Family Literacy Act, WIOA Title II — the federal grant administered by the Adult Education Office at the California Department of Education — as well as adult education staff who work at school districts, community colleges, community or faith-based organizations, volunteer literacy organizations, public or private nonprofit agencies, public libraries, state agencies, and correctional facilities.
The Call for Proposals are now closed!
TDLS Keynote Speaker: Dr. Cherina Betters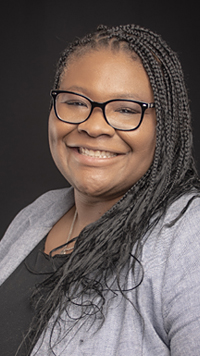 Dr. Cherina Betters is Chief of Equity and Access with a county office of education in Southern California. A lifelong learner, she has served in the field of K-12 education for 18 years in the capacity of teacher and administrator serving the students, families, and communities of San Bernardino and Riverside Counties in Southern California.
Raised primarily in a single-parent home with severe economic challenges, Dr. Betters has always viewed education as the means to overcome. The first in her family to graduate from college, Dr. Betters has a deep appreciation for education and the educational process. She received her Bachelor's degree in Political Science from California State University, Fullerton. She also earned her Master's degree in Educational Technology from National University and her Doctorate in the field of Educational Leadership with an emphasis on Social Justice from California State University, San Bernardino where she also serves in the capacity of adjunct professor in the Teacher Education Credential Program for the College of Education at CSUSB. Dr. Betters is committed to advocating for students and educational excellence through equity.
Dr. Betters is the proud parent of six children and one grandchild. Dr. Betters firmly believes that the common thread to all of her endeavors is that of giving back and helping to give a voice to those who may otherwise not have one.
Schedule-at-a-Glance
Friday, March 3, 2023
(Note: All times are PST.)

7:30am–8:30am Registration & Breakfast
8:30am–10:00am Welcome & Keynote
10:10am–11:40am Session 1
11:50am–12:50pm Lunch
1:00pm-2:00pm Session 2
2:10pm–3:40pm Session 3
3:50pm–4:50 pm Session 4
Saturday, March 4, 2023
(Note: All times are PST.)

7:30am-8:30am Breakfast/SignIn
8:40am–9:40am Session 5
9:50am–10:50am Session 6
11:00am-12:00pm Session 7
12:00pm-1:00pm Lunch
1:10pm–2:10pm Session 8
2:15pm-3:15pm Close/Tech Slam
Category Strands
Blended and Hybrid Learning
Distance Learning
Digital Equity and Access
Technology Application
Online Engagement and Assessment
Corrections, Re-Entry, and Rehabilitation
Program Administration and Coordination
Student Support Services
Note: OTAN plans on recording many of the sessions and will share those after TDLS once they become available.
Videos of some of our TDLS 2022 presentations are posted on the OTAN website on our TDLS Video Presentations page.